Habs Golf Tournament
July 27, 2022
Club Sportif AGM - June 19th
June 12, 2022
The La Broquerie Minor Hockey Annual General Meeting will be on Monday June 20th at 9:00 pm via virtual meeting. Meeting login details are below and the agenda for the meeting is attached. Any new business to be added to the Agenda must be sent to info@labroqueriehabs.com by June 13th, 2022.
All members including any parent or legal guardian of a registered La Broquerie Minor Hockey Association in good standing shall be eligible for membership upon compliance with the regulations and payment of registration fees on behalf of their child or children. Not in good standing shall be defined as acting in a manner, not in the best interests of the La Broquerie Minor Hockey Association.
Board of Directors Nominations
The Club Sportif Board of Directors is comprised of 9 elected directors serving on the board in two-year terms with 4 directors voted in odd years and 5 directors voted in even years. This year we have 3 positions up for renewal and the Club Sportif are currently taking nominations for the positions.
A nomination to the board must include the support of 3 current members or 1 current Director and be forwarded to info@labroqueriehabs.com no later than June 13th, 2022 by 11:59 PM (1 week prior to the meeting). All nominations following this date will not be considered for a position during the AGM.
Should there be more nominations than there are available positions, a ballot vote of all members present will occur during the AGM to elect the new board members.
Join Zoom Meeting
https://zoom.us/j/96802546879?pwd=a3lJbis4QWY3RW0rUmRSMTJpT0YxZz09
Meeting ID: 968 0254 6879
Passcode: 5tShY2
U13 A2 Champions
March 24, 2022
Congratulations to our U13 team in winning the U13 A2 championship in a series over Ile Des Chenes!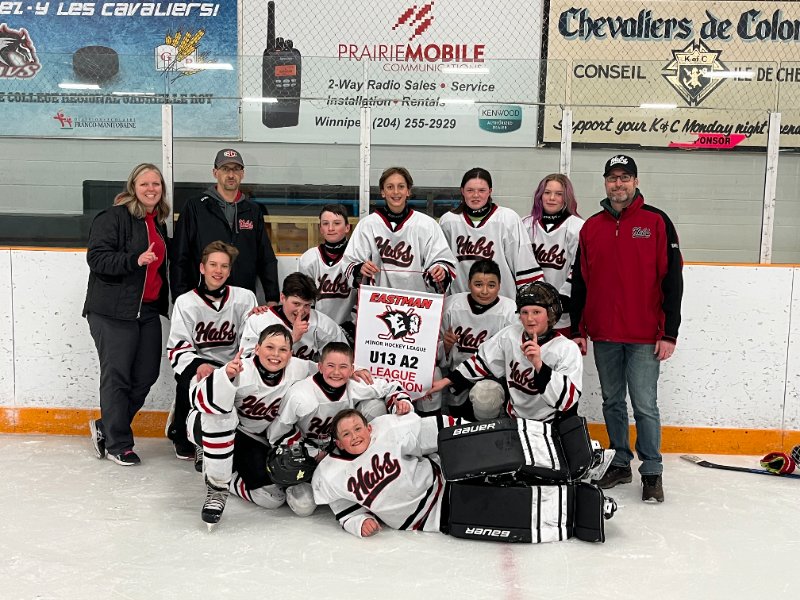 Roster:
Brayden Leippi, Markis Normandeau, Paige Marsh, Ty Mistelbacher, Soren Tindall, Yvan Turenne, Christian Gauthier, Kaylie Tetrault, Zane Preteau, Mason Hildebrand, Evan Maynard
Coaches: Joel Maynard, Pat Gauthier
Manager: Annette Tetrault
U11B1 Champions
March 22, 2022
Congratulations to our U11 B team in winning the championship in a series over Springfield!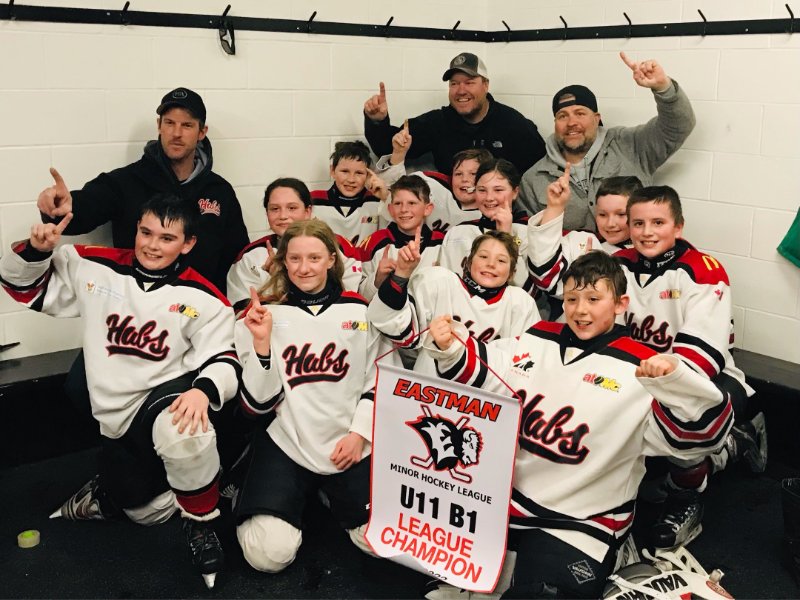 Team Roster:
Avi Tindall, Harley Thunder, Deklan Billey, Levi Dubois, Austin Gagnon, Calleigh Hebel, Sadie Lafreniere, Justin Mireault, Easton Morrow, Sylvain Normandeau
Coaches: Carey Hebel, Ryan Billey, Randy Morrow, Candace Morrow
Manager: Leigh Finney