Habs Golf Tournament
July 27, 2021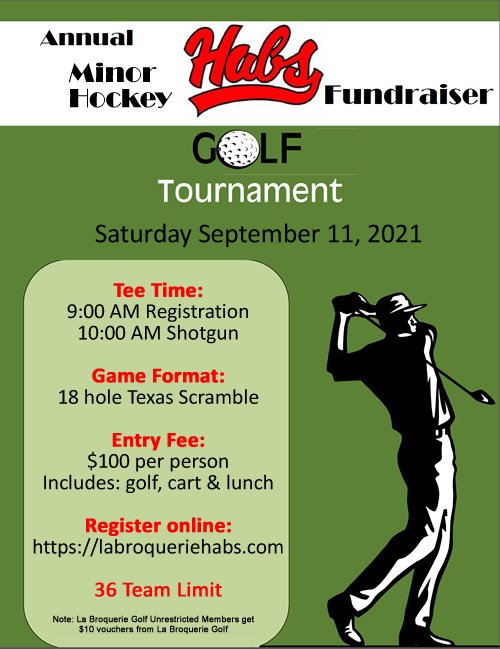 La Broquerie Habs Annual fundraising golf Tournament
36 Team Limit and Online Registration.
https://www.labroqueriehabs.com/golfregistration.html
Club Sportif de La Broquere Bursary
June 2, 2021
Please be advised that we have extended the application deadline for the Club Sportif Bursary.
Criteria: A $500 bursary will be awarded to a current grade 12 graduate who has participated in the Club Sportif of La Broquerie program as a hockey player, volunteer or official for a minimum of 5 years and will be pursuing post-secondary education in the next school year. Selection will be made based on this qualification as well as their contribution to their community as a leader, a volunteer, and a model of positive attitude.
How to apply: Graduates should submit the attached application form along with a letter detailing how they have earned this bursary and your most recent transcript (grades).
Club Sportif AGM - June 6th
May 11, 2021
The La Broquerie Minor Hockey Annual General Meeting will be on Sunday, June 6th at 7:00 pm via virtual meeting. Meeting login details are below and the agenda for the meeting is attached. Any new business to be added to the Agenda must be sent to info@labroqueriehabs.com by May 30th, 2021.
All members including any parent or legal guardian of a registered La Broquerie Minor Hockey Association in good standing shall be eligible for membership upon compliance with the regulations and payment of registration fees on behalf of their child or children. Not in good standing shall be defined as acting in a manner, not in the best interests of the La Broquerie Minor Hockey Association.
Board of Directors Nominations
The Club Sportif Board of Directors is comprised of 9 elected directors serving on the board in two-year terms with 4 directors voted in odd years and 5 directors voted in even years. This year we have 4 positions up for renewal and the Club Sportif are currently taking nominations for the positions.
A nomination to the board must include the support of 3 current members or 1 current Director and be forwarded to info@labroqueriehabs.com no later than Sunday, May 30th, 2021 by 11:59 PM (1 week prior to the meeting). All nominations following this date will not be considered for a position during the AGM.
Should there be more nominations than there are available positions, a ballot vote of all members present will occur during the AGM to elect the new board members.
Time: Jun 6, 2021 07:00 PM Winnipeg
https://zoom.us/j/91766796756?pwd=VjhCUHdvYnRpVzBEU1JjV1l1K1NjQT09
Meeting ID: 917 6679 6756
Passcode: LS5BB9
Baseball & Softball Registration
March 13, 2021
La Broquerie Minor Baseball & Softball

Registration open online from March 15 - 23rd.
For more information and to register online
Hockey Operations Suspended
November 9, 2020
We will keep you all posted on when we may resume.
From each of us on the Club Sportif, Thank you!! Thank you to all of our families for your understanding, we know this wasn't the news we were hoping for at this time and we're all hopeful to see you all back at the rink in the next short while.