Hockey Registration Now Open!
August 26, 2021
The 2021-2022 Hockey season is just around the corner. Please see below for information for this upcoming season.
REGISTRATION
Registration for the 2021-2022 season will be open from August 26 to September 11th. A few notes with respect to registration:
1) First year players: typically all first year players are required to attend an in-person registration night. This year, we will not require the in-person night. We will require that proof of residency and a copy of your child's birth certificate to verify age be provided. This can be done by way of scanned email to both Candace Morrow at info@labroqueriehabs.com and to Tania Preteau who is our registrar at registrar@labroqueriehabs.com. Once emailed, a Club Sportif member will create your La Broquerie Habs account and email you the username and password required to complete the registration online.
Note to first year Initiation Players: If your child is 4 years old at the time of registration, we will require that a parent/guardian is present on the ice to assist with practices until December.
2) COVID-19 Refund Policy: In the event Hockey Manitoba and the Province shuts down the hockey a prorated refund may be applicable.
3) HCR Registration: Hockey Canada has updated their registration system. Click here for a video tutorial as to how to set up your new account, this we be required when registration opens.
Further details will be provided on the tryout/evaluations process after registration is complete that outlines player and parent expectations for the season.
The Fee Schedule will be set as follows:
| | |
| --- | --- |
| Price | Age Group |
| $175.00 | U7 |
| $300.00 | U9 |
| $350.00 | U11 |
| $400.00 | U13 |
| $450.00 | U15 |
| $500.00 | U18 |
Should you have any questions, please do not hesitate to contact info@labroqueriehabs.com
U15 Blizzard AA Tryouts
August 20, 2021
The Eastman Blizzard tryouts will start Monday September 20th. The team is comprised of U15 players from the communities of Steinbach, Mitchell and La Broquerie. Click on the link below for Registration and Season info.
Habs Golf Tournament
July 27, 2021
SOLD OUT!!!
A big thank you to everyone who has registered!!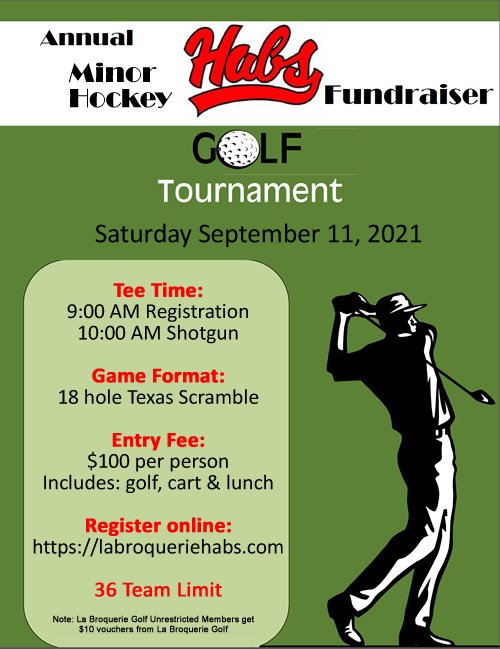 La Broquerie Habs Annual fundraising golf Tournament
36 Team Limit and Online Registration.
https://www.labroqueriehabs.com/golfregistration.html