Club Sportif AGM - June 22
June 1, 2023
The La Broquerie Minor Hockey Annual General Meeting will be on Thursday, June 22nd at 8:30pm. The plan is to meet in person and those details will be communicated within the next few days as to the Location. A copy of the Agenda, Presidents Report and Financials will be available at the meeting. Any new business to be added to the Agenda must be sent to info@labroqueriehabs.com by June 17th, 2022.
All members including any parent or legal guardian of a registered La Broquerie Minor Hockey Association in good standing shall be eligible for membership upon compliance with the regulations and payment of registration fees on behalf of their child or children. Not in good standing shall be defined as acting in a manner, not in the best interests of the La Broquerie Minor Hockey Association.
Board of Directors Nominations
The Club Sportif Board of Directors is comprised of 9 elected directors serving on the board in two-year terms with 4 directors voted in odd years and 5 directors voted in even years. This year we have 4 positions up for renewal and the Club Sportif are currently taking nominations for the positions.
A nomination to the board must include the support of 3 current members or 1 current Director and be forwarded to info@labroqueriehabs.com no later than Monday, June 19th. All nominations following this date will not be considered for a position during the AGM.
Should there be more nominations than there are available positions, a ballot vote of all members present will occur during the AGM to elect the new board members.
U18A1 Champions
March 21, 2023
Congratulations to the U18A1 team on winning the Hockey Winnipeg U18A1 Championship!!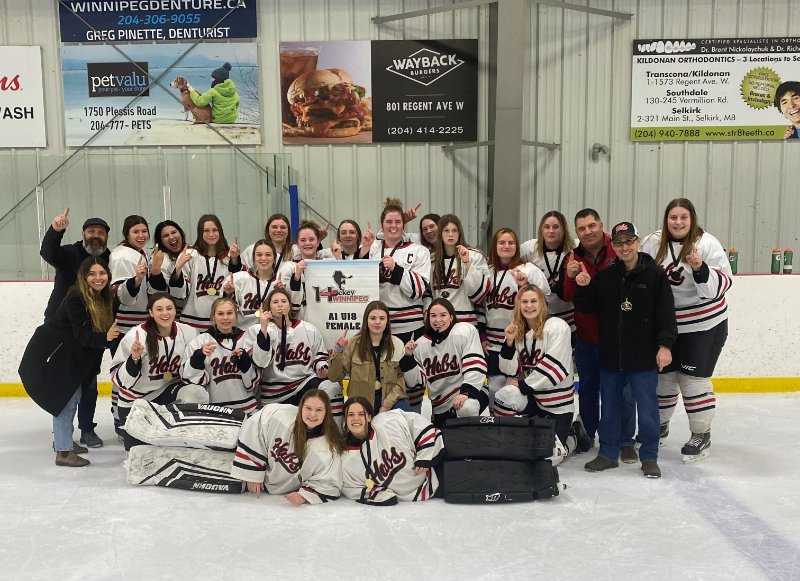 Back Row: Mark Lanouette (Assistant Coach), Isabelle Dumesnil, Aaliyah Carriere, Annie Berard, Sylvie Morin, Faith Friesen, Alexis Campbell(A), Chloe Lanouette, Erin Giesbrecht(C), Andrea Kehler, Lauren Ingeberg, Amelia Shoulak, Danica Buck(A), Pat Tetrault (Head Coach) Dakota Tetrault(A)
Middle Row: Raven Carriere (Assistant Coach), Tia Loewen, Isabelle Bisson, Heidi Blahy, Jaelyn Poustie, Janice Forest, Allison Brown, Gaetan Bisson (Assistant Coach)
Front Row: Rianna Oswald, Zarah Lahaie, Brandi Tetrault (Manager & Picture Taker)
U15B Champions
March 16, 2023
Congratulations to the U15B team on winning the U15B Championship!!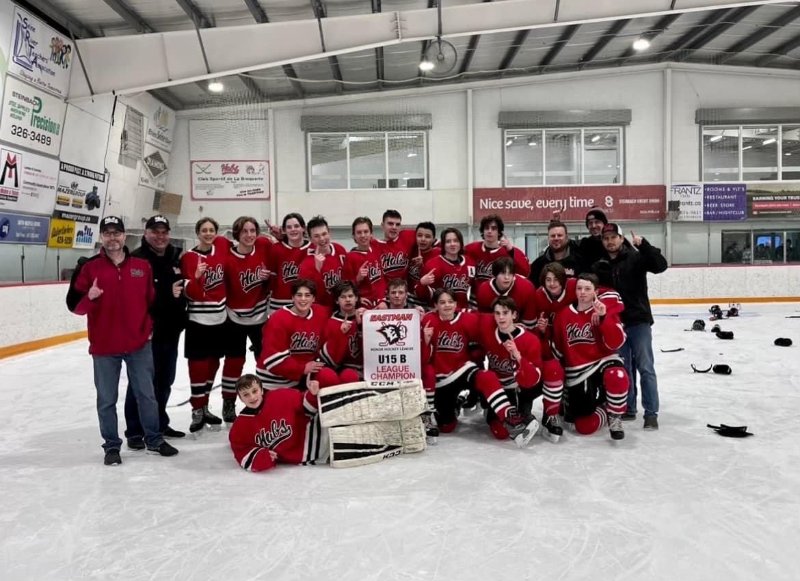 Back Row: Pat Gauthier (Coach), Ger Tetrault (Coach), Yvan Turenne, Slade Carr, Connor Tallaire, Louis Tetrault, Brayden Leippi, Braxton Marsh, Markis Normandeau, Bryce Cote, Mick Romaniuk, Jack Romaniuk (Manager), Richard Turenne (Coach), Chad Cote (Coach)
Front Row: Zach Single (Goalie), Sebastien Willman, Hayden Broesky, Brennen Schultz-Reed, Riley Gauthier, Zach Romaniuk, Ashton Jackson, Eric Marlowe, Christian Gauthier
U11A1 Champions!
March 14, 2023
Congratulations to the U11A team on winning the U11A1 Championship!!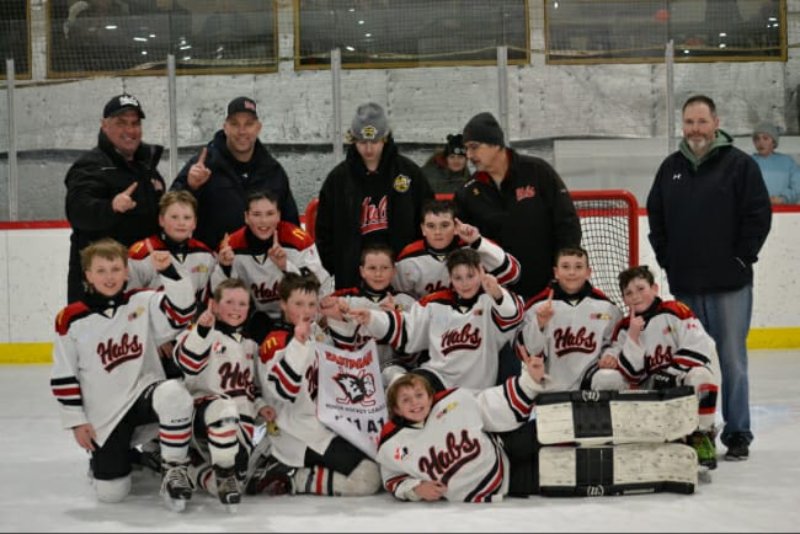 Back Row: Head Coach Gerard Tetrault, Assistant coaches - Rob Warkentin, Tristan Bradley, Al Bradley, Donovan Cruise Kristy-Layne Carr (Manager, not in photo)
Middle Row: Carter Lemoine, Julian Giesbrecht, Austin Gagnon
Front Row: Nate Warkentin, Niko Funk, Cole Tetrault, Levi Dubois, Fionn Cruise, Destin Champagne, Frederic Grenier, Nate Carr (Goalie)
Missing: Zachary Reitsma,
U18 WIN BRONZE
March 13, 2023
The U18 Team Captured the Bronze Medal on home ice defeating Lakeside 5-1!

Members of the team Left to Right: Back Row: Steve Hildebrand (Manager), Al Bradley (Assistant Coach), Ken Tallaire (Head Coach) Kalvin Meilleur, Connor Tallaire (AP), Alex Hildebrand, Zach Grimard, Jack Seniuk, Brett Eliuk, Carson Tallaire, Sydney Dhaene, Ryan Grimard (Assistant Coach)
Front Row: Easton Reimer, Martin Taillefer, Tristan Bradley, Bryce Cote (AP), Mick Romaniuk (AP),Gabriel Asselin, Zach Romaniuk (AP), Brayden Trofimenkoff, Quinn Lackey and Slade Carr (AP)