Club Sportif AGM - May 6 @ 7:30PM
April 6, 2019
The Club Sportif Annual General Meeting will take place on May 6th at 7:30PM in the at the Hylife Centre.
Baseball & Softball Registration
March 1, 2019
La Broquerie Minor Baseball & Softball

Registration open online from March 1 - 7th.
For more information and to register online
Hockey Day in La Broquerie
January 16, 2019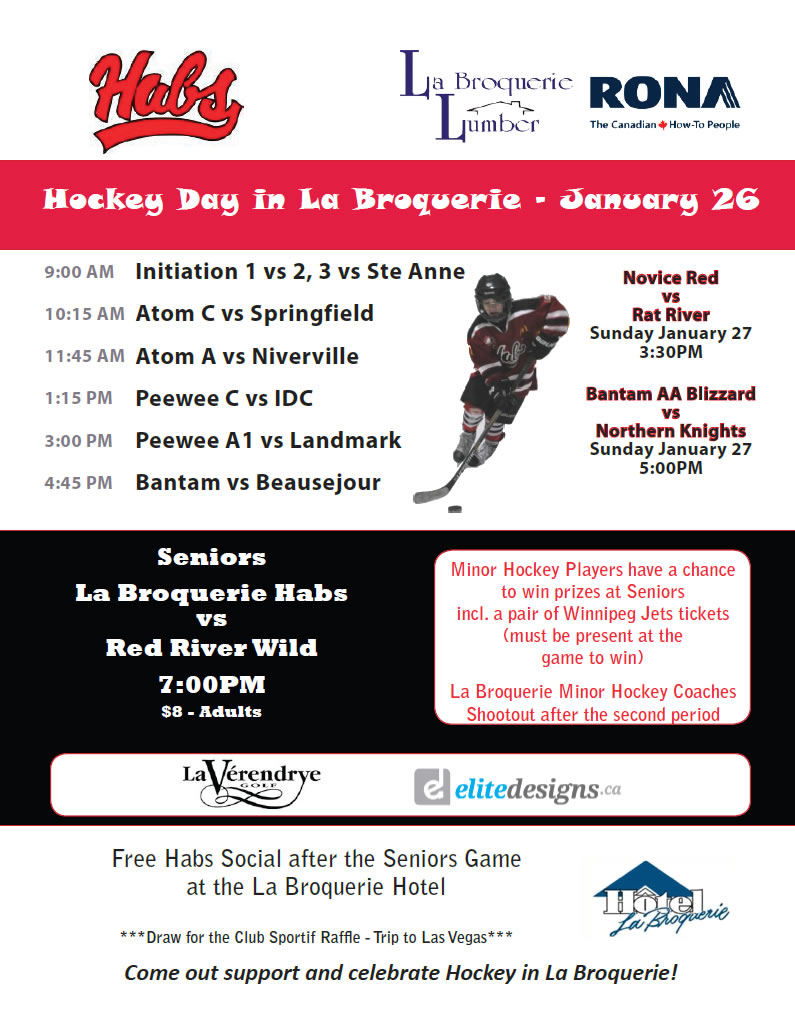 Oscar Gagnon Memorial Tournament
November 6, 2018
La Broquerie Minor Hockey will be hosting the first Oscar Gagnon Memorial Atom Hockey Tournament on November 23-25th.
This year it will feature three divisions (Atom A, B & C)
Come out and enjoy a great weekend of hockey!
Click here to get the full schedule (including results)
Team Pictures
October 22, 2018
Team Pictures will take place on Tuesday Oct 23 starting at 5:30PM.
Time are as follows:
5:30-Peewee B & C
5:40-Initiation
5:55-Novice White & Novice Red
6:10-Atom C & Atom B
6:20-Atom A
We will need everyone's cooperation for this evening as we have limited time and must get through everyone. Please ensure your child has RED socks. Pictures will take place in full equipment. If you need a form for pictures please contact your manager or click here.